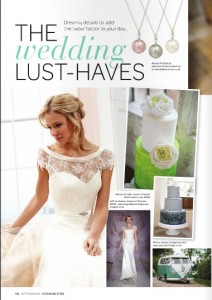 It's fantastic to have your work featured in a magazine and it's especially exciting when they choose a piece just because they love it!
My 'pearl' drop pendants were picked to feature on this lovely page of Wedding Inspiration in the September issue of Cotswold Style.
They come in a choice of colours and are the perfect bridesmaids gift.  They can be made to co-ordinate with any colour scheme and starting at only £16 on a 16 inch sterling silver chain, they have certainly proved to be a popular choice.  Perhaps more orders will start flooding in as a result fo this beautiful page?!