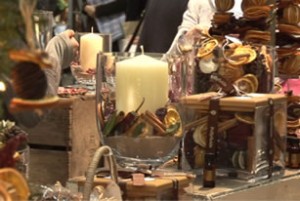 This is one of the busiest times in the Biba & Rose calendar.  Pearl jewellery has become a catwalk favourite for Autumn/Winter 2013 and is therefore a perfect Christmas Gift.
Many of the Charity Fairs I attend are held at this time of year, and a percentage of all sales is donated to Charity.
I am lucky enough to visit some amazing buildings including Powderham Castle near Exeter, Prior Park in Bath, and Hatherop Castle near Cirencester, to name a few.
One of the largest Christmas fairs I attend is the Mary Howard Sale, which has been running for over 25 years.  This year it moves to Castle Combe Race Circuit near Bath, where it will take place in a large heated marquee.  The fair lasts for four days from Tuesday 12th November to Friday 15th November.
Tickets can be bought in advance from www.maryhowardsales.co.uk.  With over 150 stands, it is certainly somewhere to do all your Christmas Shopping under one roof!